Why I let my son go on TV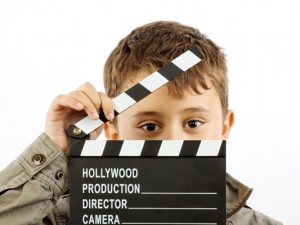 I have a five year old.  Acting is in his 'blood'.  His dad has appeared in pretty much everything and OBVIOUSLY his mother is hugely talented and successful…….
Right ok, well maybe not but the point is Leo is really good.  And Leo has decided that when he grows up he wants to go to America and be the next James Bond. He has seen both myself and his father on TV and decided it's what he wants to do – only apparently on a much bigger scale and for lots more money.
I was horrified at the thought of this.  I dreamed of him being a surgeon. Or a vet.  You know – a proper job?  His dad said it didn't matter where he worked as long as he was happy.  I soon put a stop to this ridiculous notion and gave Leo his choices.  Doctor, Vet, Surgeon, Left Wing Politician or a travel writer.  Leo ended my delusions of grandeur and announced that he was going to be an actor on the TV like his dad (ouch – can you feel my pain?).
So he went for his first casting because I have nothing better to do with my time than help my 5 year old pursue his dreams of Hollywood domination.  I was quite prepared to hear 'thanks very much and we'll be in touch' but to cut a long drawn out audition process short, he got down to the final 2.
It's interesting being a parent in this situation; I run an agency for children and never quite understand why anyone would let their kids act professionally.  Now I know why – you get ground down by said child bugging you about it and you start to think 'what if'…. so here is my advice if you find yourself in a similar situation.
1) After drama school your child may well realise that the endless knock backs, boredom on set, the unsociable hours and the invasion of their privacy is not for them……..better they decide all this BEFORE you have ploughed all your worthy possessions, re-mortgaged your house and sold your body to pay the 20 grand fees for drama school/university.
2) They might be really successful and look after you in your old age……. it's a long shot but more likely than winning the lottery.
3) There are local drama schools all over, many with agencies attached, and if you are lucky you'll get one like Meladrama.  It costs nothing to join our agency, classes are affordable (and if they aren't you can apply for a scholarship), we only take 15% if you get a job and we use a photographer that charges £25 for your headshots…. and if you can't afford it we'll treat you – you can pay us back when you get a job.  The opportunities are  there for 'US' working class people with big dreams – so use us! The only money you really need to part with are fee's for Spotlight. It's around £80 for 12-18 months.
4) The sooner an actor gets started on this precarious, unreliable career the sooner they'll be successful and have some peace and stability in their work.  A few jobs on their CV and a few industry contacts will set them well ahead of their peers later.
5) There is some good money to be made for child actors.   Look after it – put it into a trust account so when they decide to spend 6 years training to be a vet because they realise acting isn't for them – they can afford it.  They'll probably be really clever by then from all the 'one to one' education on set.
IMPORTANT WARNING I personally wouldn't put any money they earn into savings and encourage them to get the same as their siblings and peers.  No one likes a brat and they won't thank you for turning them into a drug addicted, fast car driving, unstable teenager…….. no matter how famous they are.
So my son's going to be an actor.   He looks on school as a 'stop gap', a temporary thing he has to do so he can learn to read scripts. He has no problem going for auditions to be told no, no problem learning lines and he wants to be the first James Bond from Bolton. I am still shaken AND stirred, but going to support him anyway!
Mel x